Jeff Green | Apr 30, 2015
---
One of the conditions that were set out three years ago by South Frontenac Council when they agreed to support turning the former Hartington Schoolhouse, which is township property, over to the Portland District and Area Historical Society for a museum, was that the museum would be called the Township of South Frontenac Museum and will serve the entire township.
The Society was happy to agree. One issue that they are facing as they prepare the museum for its grand opening in August, however, is that although it is a beautiful building that has been well maintained and upgraded, it is a one-room schoolhouse and is not large. The amount of material that has been gathered over the 14 years the society has been up and running, when added to items that are stored in garages and attics throughout the township, far outstrips the capacity of the new museum.
A lot of materials are stored in members' homes, and it will likely stay that way for quite a while.
This embarrassment of riches means that the museum has the pick of the crop as far as what is on display, and will be able to change its display easily over time to feature different aspects of the past in the region.
Barb Stewart and Irene Bauder met with me at the museum last week, as it is about to undergo some minor renovations in May. These will include the building of a new stoop and a fully accessible entrance, as well as the installation of new windows.
The windows are being produced by heritage window expert David White, who happens to live in the township, and Barb Stewart said they "are perfect, exactly right". The stoop, accessible ramp and door are being put in by township staff as part of the contribution the township is making to the project. The township also helped in securing a $50,000 grant for the project.
"We hope to be back in the building by the end of June," said Stewart, "which will give us six weeks to set up for the grand opening on the 15th of August."
By opening in mid-August, the museum will be up and running when the three-day Frontenac County 150th Anniversary celebration takes place August 28-30.
The Portland District Historical Society had its roots in a series of meetings that took place in 2001
"Its charter members were Bill Asselstine, Inie Platenius, Enid Bailey and Jim Reynolds. They would meet over at a cottage on Rock Lake once or twice a month, and they would yak and talk about developing a historical society, and eventually having a building," said Barb Stewart.
In 2002 the Verona Heritage Society was founded, but soon afterwards, concerned that people were saying it was all about Verona, the name was changed to the Portland and District Heritage Society, and it has had that focus ever since.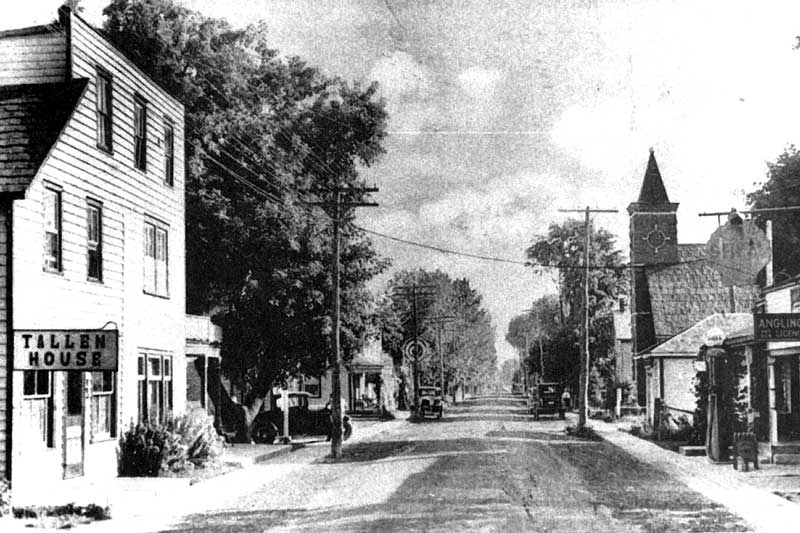 The focus on Verona at the start is a recognition of the central role that Verona held as a commercial hub in the post-war period.
Photo left: Verona in the 1930's.
Barb Stewart moved to Verona from the farm that her family ran on Road 38 at Cole Lake in 1949. Irene Bauder did not arrive in Verona until 1960, but they both remember how many businesses thrived in the village in those days.
Barb Stewart's father built a cold storage plant in the location where Asselstine's Hardware store is now located. The storage plant included a butcher shop and lockers where clients could store their meat and other frozen food.
"In 1949, fridges had very small freezers in them, and even later when the freezers went across the whole top there wasn't much room. So we had quite an operation there. My mother did all the butchering, and she had all the saws and hamburger machine and everything. She charged 3 cents a pound for butchering and the lockers were between $10 and $12 a year, which people think is laughable now, but money wasn't as good then. I made 50 cents an hour working at Walker's store," Stewart said.
"There were all kinds of businesses in Verona at one time," said Irene Bauder.
Where Topper's Convenience Store and service station is located, there was a motel. Eventually they built another big building, which was partly an extension of the motel and was also a health food store. However before all that there was Snider's Service Centre and a restaurant.
The Heritage Society has compiled a list of businesses that were up and running in 1951. It includes two car dealerships: Revell Ford, which is still a thriving enterprise, and Verona Motors, which was a GM dealership owned by Jack Simonnett, who later moved it to Parham and then Sharbot Lake. There was a laundromat, E.L Amey's auction house and hall, Genge Insurance, a pool hall, a number of stores, the Bank of Montreal, which has been located in a number of locations and is still in Verona, and there were several restaurants, two barber shops, and more.
"When I moved here there was any kind of trade and service you could imagine," said Irene Bauder.
Verona was the retail centre serving a swath of territory spread out in all directions, from Westport to the east, Harrowsmith to the south, Sharbot Lake to the north, and Tamworth to the west.
Although compared to many of its smaller neighbours Verona has remained as a retail destination, with hardware, grocery and gift stores, government services and banking as well as restaurants, a pharmacy and the ever-successful Revell Ford Motors, the retail sector is a shadow of what it was in the 1950s and early 1960s.
One of the reasons that has been pointed to in the past is the fact that Verona, and Portland, remained dry right up until amalgamation in 1998, with a liquor/beer store opening up only when the Foodland store moved to its new location a few years ago.
"People did start heading to Sydenham and Sharbot Lake and Westport for alcohol and that hurt," said Barb Stewart.
Other factors included the closing of the K&P Railroad and the fact that people tend to travel more readily for shopping than they did 50 years ago.
"We are less than 20 minutes from Princess Street and Gardiners Road as we sit here," said Irene Bauder, "and people work in Kingston and shop in Kingston."
The former schoolhouse, which is in the final stages of conversion to a museum, started life in 1903. It did not have electricity installed until 1947, and it closed in 1954. It was used for meetings sporadically after it was closed as a school. In 1967 the Frontenac County Library opened a branch in the building. The branch moved to the new Princess Anne building just across the parking lot in 1982. Community Caring (now Community Caring South Frontenac) then opened up a thrift store in the schoolhouse. When Community Caring moved to the Princess Anne building as well in 2012, the township agreed to dedicate it for use as a museum.
As the opening date of the museum approaches, there are reams of documents and numerous artefacts to be organized. The plan is to have several small exhibit spaces in the museum, each devoted to different themes, from agriculture to military history, to education, and beyond.
Jim Reynolds, one of the original members of the group that met at the cottage on Rock Lake back in 2001, is one of two people who will be preparing a layout plan for the museum once the construction work is done.
In the interim, the Township of South Frontenac Museum will have a display at the township offices in Sydenham as part of the Open Doors Frontenac County event on June 13.