Marcella Neely | Jun 22, 2016
---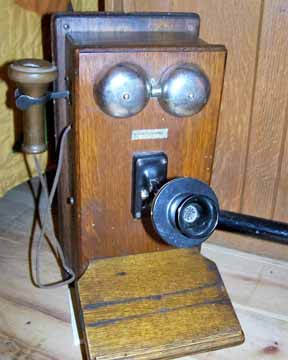 Yes, we once used a phone just like this one that is on display in our museum. There is a nice collection of older phones for visitors to enjoy and reminisce about.
We've come a long way from lifting a receiver and hearing "Number please". If calling far away, we would say, "Long distance, please". Another voice would come on the line saying "Long distance" and we would recite the destination and number. (London, England, 5642). Most numbers were only four digits. No area codes.
To receive a call, each household had a separate number of rings. Could be one long, two short, or any combination of long and short. Hearing your own ring you picked up the phone and said "hello".
Many lines were shared by several households. If on a party line you could pick up the phone on a neighbour's ring and hear their conversation. Much news was gathered this way. Gossip as well.
The Cloyne Museum's season opening is this Saturday, June 25 at 11a.m.
Bring a lawn chair and tap your feet to the music of the Pickled Chicken String Band. There will be a BBQ too. The museum will be open seven days a week all summer. Be sure to visit.