Ankaret Dean | Sep 07, 2016
---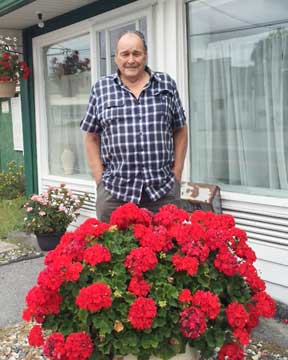 By Ankaret Dean, Lanark Master Gardeners
Ever since I moved into the hamlet of McDonalds Corners five years ago and walked down to the shop, there opposite it, is a tiny house with two gigantic tubs of bright red geraniums;
Every year they are bigger and better, so I asked the owner if he would share his secret of success.
They belong to Ralph Lehman, who originally purchased them in 2005. Ever since then he has seen them grow and flourish, and now they are like pets!
The large tubs are watered daily with one gallon of water, and fertilized every second week with an all purpose liquid fertilizer. They face south, enjoying both the early and late sunshine, and are carefully deadheaded with garden snips, not roughly pulled off. When I visited there were over 100 blooms on one plant and this is their second blooming. There will be one more before they are brought inside to the basement. However they will remain outside for light frosts, covered up overnight.
To be able to bring the huge plants through the front door they will have to be severely trimmed back. The roots are carefully lifted out, the earth shaken off and they are lightly pruned.
They spend six months in the basement wrapped in a large piece of burlap, tied at the top and placed above the ground.
There is no light and no furnace, and the temperature remains about 45 degrees throughout the winter.
They come out as soon as the danger of frost is nearly over, are planted in good top soil and the dead tops cut off. Almost immediately green shoots appear from the base of the stalks. "It is like magic; they appear almost at once," Ralph said.
The huge plants are now in their 11th year, and are the pride of the village.
---
Enjoy The Edible Garden Newsletter published monthly by Lanark County Master Gardeners and available on our website www.lanarkmg.blogspot.com or follow us on Facebook or Twitter @lanarkmg.