Julie Druker | Aug 14, 2014
---
Once a year the North Addington Education Centre in Cloyne is transformed into a vast and varied art and craft venue for artists and artisans from all over the province. The show, which is free to visitors, has been running for decades and once again this year it offered up a mind-boggling selection of work from over 70 exhibitors.
The artists' booths cover the entire ground floor of the school. Visitors spend many hours leisurely viewing the work and are hard pressed to depart without some unique hand made treasures. Pottery, glass work, wooden crafts, jewelry, fine art and photography, quilts, knit goods and body products were just a few of the items up for grabs, not to mention a number of other unique treasures that caught my eye.
Lisa Driscoll of Stirling, ON, owner of Hetty Jean Handmade Designs makes unique hand sewn creatures from felt, fleece and fur. Her creatures are cute and colorful and she aims to make each with its own unique character. Her bats boast clever teeth made from zippers and their wired wings can be manipulated to open and close. Her "Hugglies" are small, bright uni-blob-bodied monsters that Lisa calls "huggable uglies". They make cozy and cuddly friends for youngsters of all ages. Lisa's other creatures include giraffes, cats, dinosaurs, owls, and many more. Her businesses name derives from Lisa's two grandmothers - Hetty, her father's mother and Jean, her mother's mother, who both taught her how to sew and inspired her to create the imaginative sewn animals that suit the young at heart of all ages.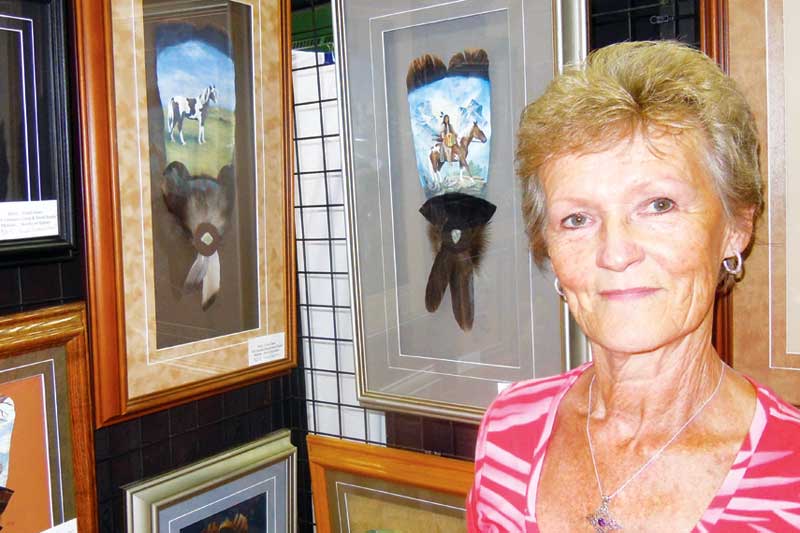 Photo: Painter Carol Jones of the All Creatures Great and Small Studio and her feather paintings at the 2014 Cloyne Showcase
Another artisan working in one of the more unusual mediums at the show was Carol Jones, who hails from Dunsford, Ont. near Bobcaygeon, where she has a studio called All Creatures Great and Small. Jones is a painter, who instead of painting on canvas or board, opts to ply her brush to feathers - specifically, the tail feathers of wild turkeys. Her motivation came after seeing a similar way of painting when she visited western Canada years ago. "I wanted to create my own little niche, so I chose to make feather paintings instead of regular ones." Her subject matter includes wildlife, landscapes, fantastical and aboriginal scenes, butterflies and animals that include foxes, bears herons and more. Prior to painting, Jones uses a small Dremel tool to smooth down the central quill on each feather in order to avoid having to paint on its ridges. Jones said that it took a lot of experimenting before she finally got her technique down. Once the painting is complete she covers the quill tip at the bottom end of the feather by attaching additional decorative feathers and finishes them off with a piece of circular leather adorned with a semi precious stone. The feather paintings are then mounted on matte board and framed in a shadow box. New to her work is the recent addition of crushed glass, which she applies to certain painted sections on the feather. She describes these new works as her "newest fantasy line of paintings" and the glass gives them a sparkling, shimmering surface that adds to their more mystical feel.
Anyone who missed the show can view the work of these two artists by visiting www.carolsfeatherart.com and Hetty Jean on facebook.