Jeff Green | Jul 17, 2014
---
The year was 1946; the Second World War had just ended, and Bob Bence had returned to Arden from military service in the United States. With his father Joe, Bob decided to start up a car dealership in Arden.
The Bence family, who originally came from New York State, had moved to Arden on a full-time basis after having a cottage there for years.
After preparing a site in the middle of the village for construction, and even pouring a foundation, something happened that changed the family history, much to the benefit of the Bence family, the village of Kaladar, and thousands of truck and car buyers from across Ontario.
As Bob Bence, now 89, recollected this week from the spacious, brand spanking new Bence Motors showroom at the junction of Hwy. 7 and 41, it all had to do with the then Reeve of Kennebec Township.
Photo: Robert (Bob Sr.) and the late Glenda Bence.
"He made an inappropriate pass to a close relative of my father, while her husband was still overseas, and after my father told him what he thought of his behaviour, it became difficult for us to do business in Arden any more."
At the time, the trains were still going through Arden and Highway 7 was still a dirt road. Nevertheless, Bob Bence visited the site at Kaladar, thought it looked promising, and moved the business, lock, stock and cement block, over to Kaladar.
Highway 41 was also no more than a gravel road then, but over the years the train has stopped running through Arden, and Highways 7 and 41 have become transportation corridors to far-flung corners of the province.
In 1959, two major events took place in Bob Bence's life. He married Glenda, who was 13 years his junior, and he purchased Bence Motors from his father. During the 1960s, Bob did most of the work on his own, both selling cars and running the repairs end of the business. Meanwhile, Glenda gave birth to six children over the next 10 years.
"Glenda was always an extrovert," Bob Bence said fondly of his wife, who died of cancer in the winter of 2007, "so she started selling cars while I looked after the rest of the business."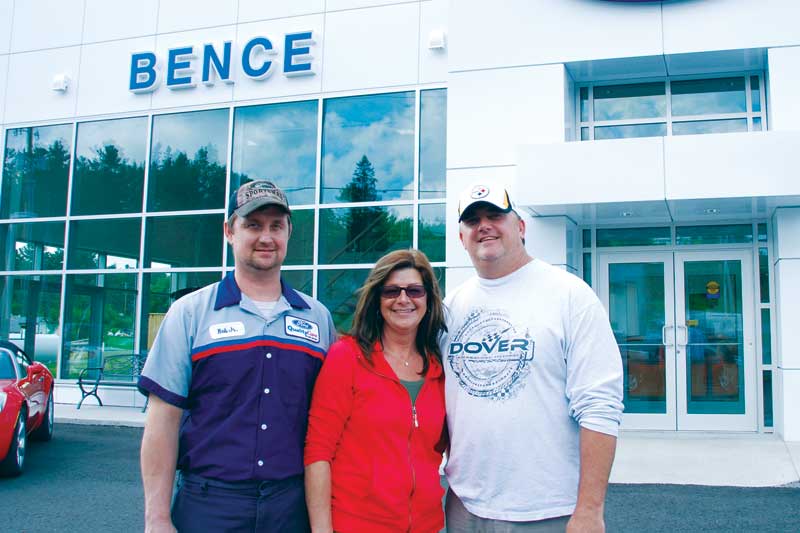 One of the reasons for Bence Motors' staying power is the way three of Bob and Glenda Bence's children, Joe, Bob Jr. and Tammy (Gaylord), have taken up the business. Tammy is the bookkeeper/manager for the sales and repairs; Bob is a master technician; and Joe takes care of the sales end of the business.
Photo: Robert (Bobby) Bence Jr., Tammy Gaylord, and Joe Bence in front of the new Bence Motors.
For Tammy, the fact that the business is a three-generation family-run enterprise is key to its continued success after 68 years.
At one point it looked like only Bob Jr., who was interested in being a technician ever since he was a boy, would stay in the business. But in 1983, Joe came back to Kaladar and started selling cars, and in 1989, Tammy, who at the time was running a hair salon, started working as a part-time book-keeper for her parents.
"I was part-time for about two months," she recalls now.
Even in a new, modern car showroom, the Bence family keeps things pretty informal. Joe Bence prefers a ball cap and a t-shirt to a suit and tie, and for the picture accompanying this article, a new Ford shirt had to be found for Bob to replace and not-so new shirt he was wearing.
But car sales are about service and having the products people want, and Bence keeps a wide selection of Ford trucks in stock, which Joe Bence complies himself, in order to have the trucks their customers always seem to want.
"A lot of our sales are now done through the Internet" said Tammy, "and mostly people see trucks listed with the features they need and they get hold of us for them. We have customers who order vehicles from Toronto, from Quebec, from all over, as well as from the local community."
Even though the final decision to build a new showroom, office and six-bay service centre was only finalised last spring, leading to a frenetic year of building while the old Bence Motors remained open for business, it has been coming for a number of years.
"We knew we had outgrown our old dealership 15 years ago," said Tammy, "and we starting thinking about what we should do."
A little over five years ago, work began on flattening some of the huge outcrop behind the old building, and some more land was purchased to accommodate the ever expanding business.
"We had to lay the groundwork, and then last year we decided to make the investment and go for it," said Joe Bence.
"Dad didn't see the need for it, after all he is 89, but I think we all have seen, since we opened the new building, that it is what we had hoped for and more," said Tammy.
Back in 2003, we ran an article in the Frontenac News about the staying power of Bence Motors, which at that time had outlasted other Ford and car dealerships along Highways 7 and 41, even though it did not have the fancy showrooms that the other dealers had.
In recent years, other dealerships, including A&B Ford in Perth and Revell Ford, another generations-old family-run business in Verona, have upgraded their facilities, and Bence Motors was falling further behind.
Not any more.