Jeff Green | Nov 16, 2016
---
Gordon Wood is a familiar figure in Flinton. Partly that's because he's been there longer than just about anyone else. Also, whenever the weather is nice, even if it is a bit chilly, he can be seen rolling around the village on his motorised scooter. He enjoys the fresh air, and stops to talk to neighbours once in a while. Then he returns to the home that he built with his late wife Wilma in 1947, where they raised five children.
Gordon just turned 92 last week, and although he remains pretty sharp, he is "finally showing his age" according to his daughter Audrey, who lives in Cloyne and checks in on him every day. Audrey puts food together for him to microwave, deals with his medical needs, and makes sure he is ok. Gordon also receives a pension and some help, including medical devices, a new scooter every four years, and other benefits from Veteran's Services.
Although he has lived in the Flinton area most of his life, got married there and raised five children, there was a gap.
Gordon spent five years with the Canadian military.
He walked into the recruitment office in Kingston when he was only 17, and tried to sign up.
"They told me I was too young," he recalled earlier this week, "so I came back the next day and they signed me up then."
What followed for Private Gordon Wood is a classic tale from WW2, which has been told before in The Frontenac News and is captured on film in the archives of the Pioneer Museum in Cloyne.
On D-Day (June 6, 1944) he was still only 19, and that fact, coupled with the fact that over 72 years have passed since then, makes him a member of a dwindling club. It is hard to get an accurate count, but Veterans Affairs estimated that as of March of 2014, about 76,000 Canadian WW2 veterans remained alive, and at that time their average age was 91. Based on sheer demographics, that number is certainly under 30,000 now, and is likely much lower. As far as veterans of the Juno Beach invasion are concerned, the number is certainly dwindling. In an article in the National Post that was published 18 months ago in April of 2015, the number was estimated to be 1,000.
At the 72nd commemorative service for the Juno beach invasion, which was held on June 6 of" this year, there were 9 veterans of invasion in attendance, and only 1 Canadian.
J.L Granatastein, a popular Canadian historian, published a book on the D-Day invasion. He described the soldiers who stormed the beaches: "We also need to understand the great courage of all those young men who faced the enemy's fire and, conquering their understandable fear, stayed to fight and to support their friends and honor their country. A band of brothers? Without a doubt. Our greatest generation? Absolutely."
This puts Gordon into some pretty impressive company:
Here is an excerpt from the Frontenac News article from 2005, based on how Gordon described the invasion when he was 81.
After training for two years at Camp Borden Gordon was finally sent to England in the early spring of 1944. Three months later, Private Gordon Wood, by then an infantryman with the Regina Rifles of Saskatchewan (which he had joined while in England), took part in the landing at Juno Beach on June 6, 1944.
"We had a rough landing. We came out of the landing craft in water up to our chests and had to run to shore with our rifles held up in the air."
Gordon's landing craft was among those in the middle of the pack of craft that came into shore that morning. "By the time we hit the water, it was red with blood," he recalls. He doesn't remember being particularly frightened, however. "I was too young to know I wasn't invincible," he says, "even though we lost a pile of men on that beach."
After hitting land, Gordon and the other soldiers who had survived pressed forward, shooting as they went. "The first 24 hours were probably the most dangerous, but then things did settle down," he said.
Gordon Wood spent the next nine months fighting through France, Belgium and Holland. He became a Lance Corporal and a Section Leader.
"We would advance for days and then stop, and then we would take a rest for three or four days when the supplies arrived, and let another bunch push ahead. Then it was our turn again," he remembers.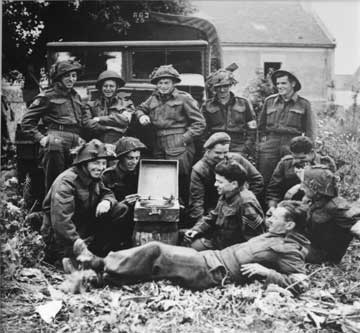 Photo Left: Gordon Wood (top right) with his platoon mates enjoying the sound of music coming from a portable phonograph they picked up along the way
At one point Wood and three other men were captured. Since the war was in its dying days and the German army was in a state of disarray, the men bade their time until one night when there didn't seem to be anyone guarding them, and then they made a run for it. They kept down, hiding in ditches and wooded areas, and eventually rejoined their comrades.
Again, Gordon does not recall being particularly frightened during the time when he was a prisoner, even though he says that "we knew that if we didn't escape the Germans would have eventually kill us, but you don't think about dying when you're 20 years old."
After the War ended, Lance Corporal Wood stayed on in Europe for a year as a member of the Cameron Highlanders of Ottawa, spending some of that time as a guard in a prison camp just inside of Germany. In 1946, Gordon returned to Canada and was discharged.
It turns out that the minutes after Gordon landed at Juno Beach were not the most dangerous moments that he faced. Those came even earlier. In an account of the invasion that I came upon this week in research for this article, it turns out that of the boats carrying members of Gordon's company, D Company (nicknamed Dog Company) of the 3rd Battalion, two struck land mines about 250 yards from the beach, killing many, including the company commander and the signals commander. Only 49 D company soldiers even made it to the water alive. Fortunately for them, a soldier in A company, the first to land, lieutenant Bill Greyson, had found a safe spot after making it to the beach, and gauging the timing and direction of rifle fire, had tossed a grenade into a major German "emplacement" and the German soldiers abandoned it and were soon taken prisoner. All told, the 3rd battalion took 80 prisoners, with the 49 surviving D company members taking 20 on their own.
Since 2005 time has taken a toll on Gordon. His wife Wilma (Bryden), a school teacher who he met shortly after returning from the war at a supper and dance at the former Flinton Hall, passed away 9 years ago after a 60 year marriage, and he still feels the loss. He doesn't hear or see that well anymore, and struggles with Diabetes as he has for the past 30 years, but he still lives on his own and with the help of family and friends he lives a happy, independent life.
He said this week that he never has talked a lot about the war after he came back, and "just sort of got on with life". He still thinks about the day of the invasion, however, on Remembrance Day, and on June 6 each year when he participates in the parade that the Tamworth Legion puts on. He said that he also remembers that day in quiet moments when he is alone in his chair, in the house the he built with his wife, late in the afternoons as the sun is going down.