Marcella Neely | Jul 06, 2016
---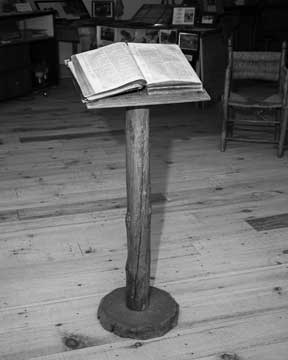 Can someone help us identify this item? We know for sure that the lectern was hand made for the Northbrook United Church. We would like to know who made it and approximately what year; who the minister was; how long it was in use. Any information would be appreciated.
The lectern is on display in the museum along with the pulpit, on loan, from the Northbrook United Church. In the ecumenical corner we display an antique organ (circa 1901) from the Heyburn United Church, donated by Mr. & Mrs. Brownle of Napanee along with old Bibles and other items from area churches. You will see a painting of the five United Churches on the wall. All five, Northbrook, Cloyne, Kaladar, Harlowe and Flinton once had their own church. In recent years they amalgamated and now share a beautiful building just north of the village of Northbrook.
A few facts about the original Northbrook United Church, which is now the clothing depot that we are so accustomed to seeing as a part of the village. The church was built in 1892 where it still stands. The cemetery was already in use at the time. The church was open full time until attendance at churches began to drop off. For years it became the winter church while the Cloyne United, because of park visitors, was the summer church. It closed entirely in the 1970s. The minister up until 1965 was Wayne Hilliker, who had been in the ministry for 60 years by then.
Please send any information about the lectern to This email address is being protected from spambots. You need JavaScript enabled to view it. or to P.O. Box 228, Cloyne ON, K0H 1K0.
Photo by Cathy Hook